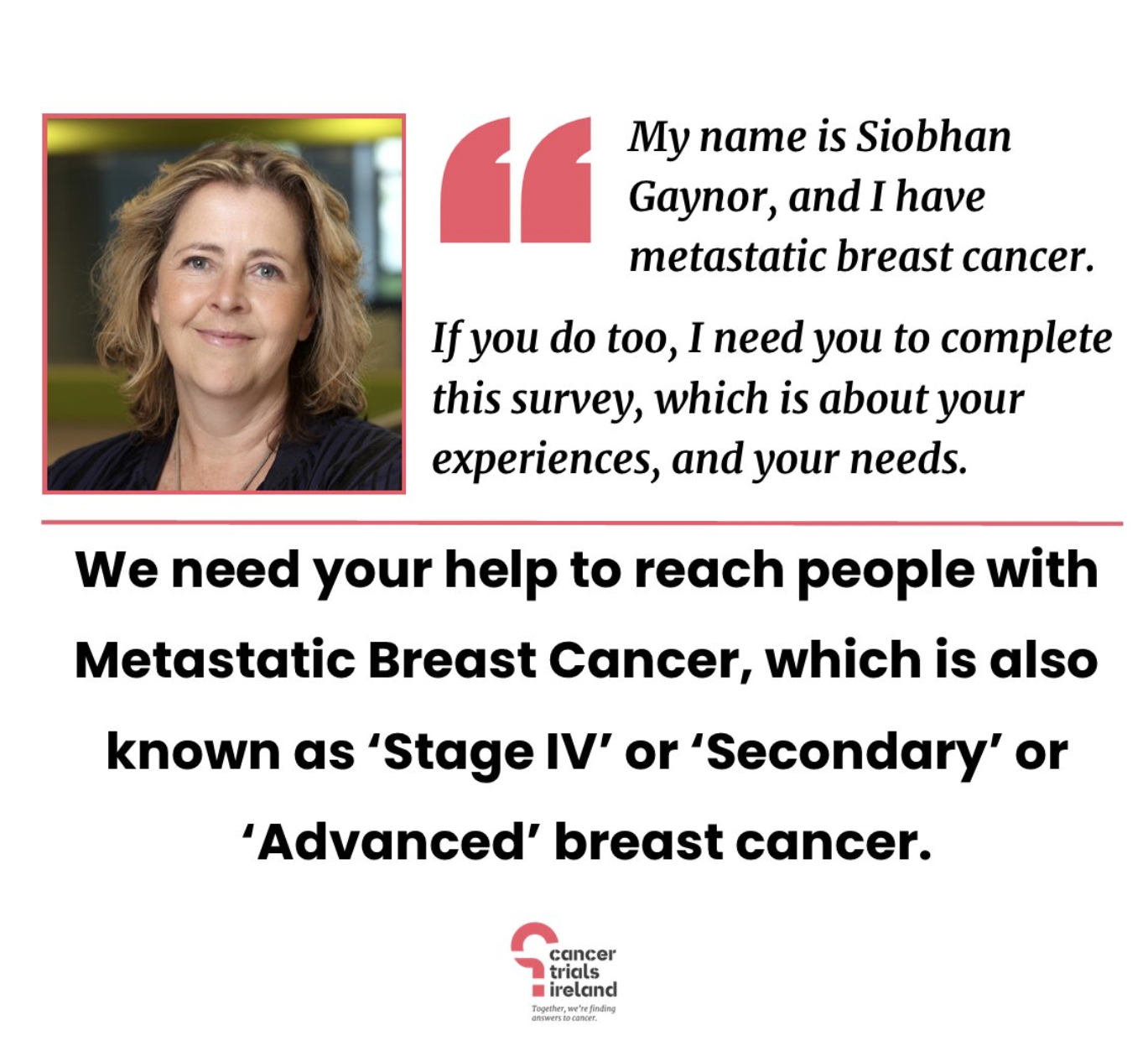 Cancer Trials Ireland has teamed up with patient advocate Siobhan Gaynor to undertake a study amongst patients living with metastatic breast cancer in Ireland. The study, part of Cancer Trials Ireland's public patient involvement (PPI) initiative in cancer clinical research, aims to better understand the needs of those patients - including those with secondary breast cancer, stage IV breast cancer and advanced breast cancer - with a particular focus on information and communication needs. Patients are asked to take an anonymous survey, the results of which will be used to guide evidence-based changes in service provision and to also guide the implementation of new health and social care resources to optimise care for patients with metastatic breast cancer with particular emphasis on psychosocial and palliative care needs.
This study has been developed by Siobhan Gaynor, a breast cancer patient who has metastatic disease, in conjunction with a cohort of patients with the same disease and an interdisciplinary steering committee comprised of medical and radiation oncologists, allied health professionals, palliative care staff and doctors in training. The co Chief – Investigators of this study are Ms. Siobhan Gaynor (Patient Consultant Committee, Cancer Trials Ireland) and Prof. Seamus O'Reilly (Medical Oncologist, Cork University Hospital and Vice-Clinical lead Cancer Trials Ireland).
Participants are asked to answer questions in an anonymous online survey relating to their experiences of having metastatic breast cancer as well as questions about their demographics, diagnosis, prognosis, communication, sexual / intimacy / fertility impact, exercise, palliative care, financial burden and time toxicity. It takes approximately 30 minutes to complete the survey.
It is hoped the study's findings will help improve and understand further the impact that metastatic breast cancer has on the lives of patients in Ireland.