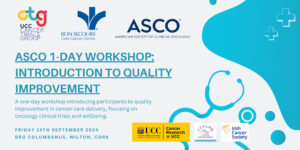 Bon Secours Cork Cancer Centre and the UCC Cancer Trials Group invite those working in oncology in Ireland to attend an ASCO QTP training day on Friday, 15 September at Brú Columbanus, Wilton, Cork.
ASCO's Quality Training Program (QTP) is designed to help your practice improve the quality of cancer care delivery. The course elevates medical and non-medical staff members of the care team into higher-functioning quality improvement teams, identifies practice-specific areas for development, and gives you the tools and strategies necessary to make change.
The 1-Day Workshop: Introduction to Quality Improvement uses experience-based learning techniques and provides hands-on learning and the opportunity to immediately translate training into action to improve the quality of cancer care. The Cork workshop will focus on the themes of oncology clinical trials and wellbeing. It is suitable for all staff working in cancer trials locally and nationally.
This is the first ASCO QTP training event to take place in Ireland and is free to attend. It is an RCPI accredited training day and CPD credits will apply. Numbers are limited, please register early.